Galliard - New Dawn (1970) [2012 EU reissue]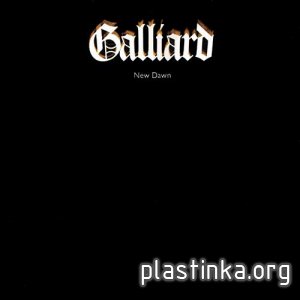 Оцифровку и обработку выполнил: son-of-albion

Информация о пластинке:
Название: New Dawn
Исполнитель: Galliard
Жанр: Jazz, Folk, Rock, Psychedelia
Год выпуска: 1970 [2012 EU reissue]
Количество композиций: 08
Количество пластинок: 1
Фирма: Sweet Dandelion (Made in UK)
Номер по каталогу: SWDDL 726

Информация о файле с оцифровкой:
Формат: mp3 + flac
Качество: cbr 320 kbps + lossless 24 bit/96 kHz
Размер файла: 100 + 952 Мб (3% на восстановление)

Предпрослушка: mp3 cbr 320 kbps


Список композиций:
01. New Dawn Breaking
02. Ask For Nothing
03. Winter-Spring-Summer
04. Open Up Your Mind
05. And Smile Again
06. Something's Going On
07. Premonition
08. In Your Mind's Eye

Музыканты:
Les Podraza – Drums, Tambourine, Sleigh Bells, Claves, Vocals
Andy Abbott – Fender Bass, Accordion, Lead Vocals
Geoff Brown – Rhythm, Twelve String Acoustic Guitars, Hammond Organ,
Electric Piano, Most Lead Vocals
Richard Pannell – Lead Guitar, Sitar, Modulated Sine-Wave Generator, Vocals
Dave Caswell – Trumpet, Indian Flute, Electric Piano, Vocals
Lyle Jenkins – Tenor, Baritone Saxophone
John Hughes – Trombone
Harry Becket – Trumpet, Flugelhorn
Tony Roberts – Tenor Saxophone, Flute
John Morton – Piano
Tommy Thomas – Congas

Galliard were in on the ground floor of the British progressive rock movement, releasing their debut album, Strange Pleasure, in 1969 and mixing jazz, rock, folk, and psychedelic influences. The following year, New Dawn pretty much picked up where its predecessor left off, with one key exception. The band had initially featured two wind players, Dave Caswell and John Smith; though Smith was absent from New Dawn, a whole brace of additional horn players had been brought in to augment the sound. This was during the period when the likes of Chicago and Blood, Sweat & Tears (and their British equivalents) were starting out, and brass-rock was all the rage. That's not to suggest that Galliard were trying to ride the brass-rock gravy train -- their work is too skilled and varied for that -- but simply that they were right in time for the Zeitgeist. Some cuts, like "New Dawn Breaking" and "Open Up Your Mind," make full use of the horn section, coming off like a cross between early Chicago and jazzy U.K. prog rockers Colosseum, but that's far from the dominant sound on this eclectic outing.
Lead guitarist Richard Pannell's sitar work on "Ask for Nothing" contributes to a swirling Eastern atmosphere that seems soaked in a kind of psychedelic afterglow from the late '60s. "Winter -- Spring -- Summer" is an ambitious suite full of shifting dynamics and settings, while the gentle, acoustic-based "And Smile Again" echoes Jethro Tull or the more folk-oriented moments of Traffic. "Premonition" is a straight-up jazz-rock instrumental pushed along by Tommy Thomas' congas, where Pannell and the horns get to stretch out a bit. Closing track "In Your Minds Eye" opens with a couple of minutes of atmospheric, otherworldly tones before bringing things home with a blast of bold-faced, brass-filled prog rock. The striking thing is just how good Galliard were at all of the varied styles they attempt on New Dawn, but sadly, it was to be their last album. James Allen, Allmusic.


Полноразмерные обложки
Техническая информация
Dynamic Range
Скачать mp3 cbr 320 kbps (100 Мб):
Архив без пароля!
Внимание! У Вас нет прав для просмотра скрытого текста.
Скачать lossless 24-96 (952 Мб):
Архив без пароля!
Внимание! У Вас нет прав для просмотра скрытого текста.
Благодарностей: 6