The Kinks - Soundtrack from the film "Percy" (1971)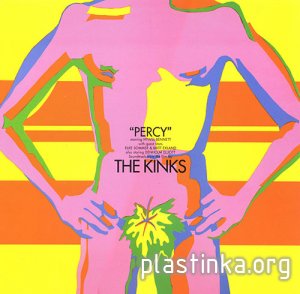 Оцифровку и обработку выполнил: son-of-albion
Информация о пластинке:
Название:
Soundtrack from the film "Percy"
Исполнитель:
The Kinks
Жанр:
Soundtrack, Soft Rock, Classic Rock
Год выпуска:
1971
Количество композиций:
13
Количество пластинок:
1
Фирма:
Castle and Pye Records (Made in UK)
Номер по каталогу:
ESMLP 891
Информация о файле с оцифровкой:
Формат:
mp3 + flac
Качество:
cbr 320 kbps + lossless 24 bit/96 kHz
Размер файла:
77 + 681 Мб (3% на восстановление)
Предпрослушка:
mp3 cbr 320 kbps
Список композиций:
01. God's Children
02. Lola (Instrumental)
03. The Way Love Used To Be
04. Completely
05. Running Around Town
06. Moments
07. Animals In The Zoo
08. Just Friends
09. Whip Lady
10. Dreams
11. Helga
12. Willesden Green
13. God's Children – End
Музыканты:
Ray Davies – vocals, guitar
Dave Davies – guitar, vocals
John Dalton – bass, lead vocals on "Willesden Green"
John Gosling – keyboards
Mick Avory – drums
Orchestral arrangements by Stanley Myers
Produced by Raymond Douglas Davies
Ray Davies and company had already participated in one failed television musical when the movie Percy came along -- it wasn't as original as Arthur, nor did Davies have nearly as much to do with its creation, but he still outdid himself given the material at hand. Directed and co-produced by Ralph Thomas, who had been responsible for some brilliant thrillers (The Clouded Yellow, Above Us the Waves) and very popular comedies (Doctor in the House) in past decades, Percy was the story of the world's first penis transplant (it was probably inspired, or at least justified, by big-budget efforts of the period like Myra Breckinridge). Although virtually unseen in the United States, it was still popular enough to yield a sequel (Percy's Progress), but its real impact came from its soundtrack. Davies wrote some hauntingly beautiful ballads ("The Way Love Used To Be") and some solid blues and country as well -- "God's Children" and "Animals in the Zoo" have turned up on some career anthologies, but there's a lot more to Percy than those two tracks. "Completely" is as fine a slow blues as the band ever recorded, with a sizzling performance by Dave Davies, and "Dreams" is a pretty solid rocker, even up alongside "Animals in the Zoo." To this day the album has never appeared in the U.S. catalogue -- recorded at the tail end of their contract with Pye Records in England and Warner/Reprise in America, and connected with a movie that was never going to see much exposure in the U.S.A., Reprise passed on it at the time.
Bruce Eder, allmusic
Полноразмерные обложки
Техническая информация
Dynamic Range
Скачать mp3 cbr 320 kbps (77 Мб):
Архив без пароля!
Внимание! У Вас нет прав для просмотра скрытого текста.
Скачать lossless 24-96 (681 Мб):
Архив без пароля!
Внимание! У Вас нет прав для просмотра скрытого текста.
Благодарностей: 4