Galliard - Strange Pleasure (1969) + Single [2007 EU reissue]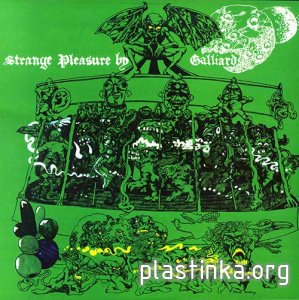 Оцифровку и обработку выполнил: son-of-albion

Информация о пластинке:
Название: Strange Pleasure
Исполнитель: Galliard
Жанр: Folk Rock, Psychedelic Rock
Год выпуска: 1969 [2007 EU reissue]
Количество композиций: 12
Количество пластинок: 1
Фирма: Tapestry (Made in EU)
Номер по каталогу: TPT 245

Информация о файле с оцифровкой:
Формат: mp3 + flac
Качество: cbr 320 kbps + lossless 24 bit/96 kHz
Размер файла: 106 + 899 Мб (3% на восстановление)

Предпрослушка: mp3 cbr 320 kbps


Список композиций:
01. Skillet
02. A Modern Day Fairy Tale
03. Pastorale
04. I Wrapped Her In Ribbons
05. Children of The Sun
06. Got To Make It
07. Frog Galliard
08. Blood
09. Hear The Colours
10. I Wanna Be Back Home
Bonus (From Deram mono single DM 306):
11. I Wrapped Her In Ribbons (different version to 04)
12. The Hermit And The Knight

Музыканты:
Dave Caswell: Trumpet, backing vocals, composer 03 & 06
Geoff Brown: Rhythm guitar, composer of the other eight songs
Andy Abbott: Bass guitar, some lead vocals
Richard Pannel: Lead guitar, electronic effects, 12 string guitar,
lute and occasional backing vocals
Les Podreza: Drums and percussion
John Smith: Tenor, alto and soprano saxes
Produced by Phil Wainman
Engineer: Dave Grinstead

Galliard were formed in Birmingham, in the summer of 1968. They cut two albums, "Strange Pleasure" and "New Dawn", both of which were produced by Phil Wainman, drummer and future Bay City Rollers manager. In my humble opinion these are two of the best, most powerful, most vibrant albums of the era.
Much of Galliard's albums are like a Happening. A pop band who've gone progressive are performing at the same time as a brass section who were soul but have now got into free-style jazz; or like listening to two radios, one tuned to pop, one tuned to jazz (but without the discordance). It's a great mix. A friend of mine once summed them up with the following words after seeing them live for the first time: "Like Blood Sweat & Tears meets the Soft Machine." I hear no reason to change this.
Galliard have very much remained a prog-rock collectors preserve, although they are much loved by real music lovers: knowledgeable jazz freaks, and sampling DJs, but truly open minded fans of psychedelia will also find much to admire and enjoy. This is not formulaic psychedelia, that's not what Galliard were about, but if you appreciate horns whilst not taking your eye off the ball marked Nirvana then you'll dig them. And be warned: if you've been listening to too much lite-pop then these will hit you like a ten ton truck doing 80mph. Dave Thubron, Sweet Floral Albion Issue 36.


Полноразмерные обложки
Техническая информация
Dynamic Range
Скачать mp3 cbr 320 kbps (106 Мб):
Архив без пароля!
Внимание! У Вас нет прав для просмотра скрытого текста.
Скачать lossless 24-96 (899 Мб):
Архив без пароля!
Внимание! У Вас нет прав для просмотра скрытого текста.
Благодарностей: 5