Ekseption - Beggar Julia's Time Trip (1970)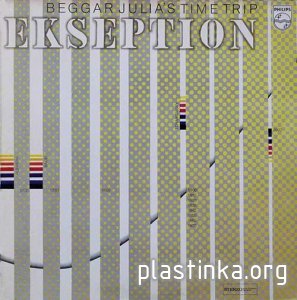 Оцифровку и обработку выполнил: Arend

Информация о пластинке:
Название: Beggar Julia's Time Trip
Исполнитель: Ekseption
Жанр: Classic Rock, Symphonic Rock
Год выпуска: 1970
Количество композиций: 14
Количество пластинок: 1
Фирма: Philips (Made in Netherlands)
Номер по каталогу: 861 821 LCY

Информация о файле с оцифровкой:
Формат: flac
Качество: lossless 24 bit/96 kHz
Размер файла: 725 Мб (3% на восстановление)

Предпрослушка: mp3 cbr 320 kbps


Список композиций:
01 Ouverture
02 Prologue
03 Julia
04 Flying power
05 Adagio
06 Space I
07 Italian concerto
08 Concerto
09 Space II
10 Pop Giant
11 Space III
12 Feelings
13 Epilogue
14 Finale (a) Music for mind (b) Theme Julia

Музыканты:
- Michel van Dijk / vocals, percussion
- Dennis Whitbread / drums, kettledrums
- Rick van der Linden / piano, spinet, xylophone, (pipe) organ, mellotron
- Rein van den Broek / trumpet, flugelhorn, pocket trumpet
- Cor Dekker / bass guitar
- Dick Remelink / saxes, flute
А так же:
- Tony Vos / saxes, tonytone, electronic effects
- Linda van Dijck / voice on "Prologue" & "Epilogue"
- Eric van Lier / trombone, tuba

Beggar Julia's Timetrip is based on a story of a man who travels through time in a spaceship and observes the great composers at work. Thus, the story is of course a perfect setting for introducing some rock/jazz versions of Albinoni's Adagio, Bach's Italian Concerto and Tchaikovsky's piano concerto garnished with some Beethoven. "Enjoy this beautiful Ekseption album and great Philips recording (42 years old)".
Ekseption is best known for their, at times quirky, reworkings of the classics. What most people forget is that they also wrote great jazz influenced prog.. This album is one of them. On this album, their second, they were joined by singer Michiel van Dijk, who later would be the frontman of Alquin. Having vocals on this album adds an extra attraction to the music of Ekseption.
This album covers the story of a female Beggar named Julia, who travels through time, starting in the year 900 and ending in our time. The story is narrated by actress Linda van Dijk. All the tracks are blended together, often linked with smaller spacey pieces.
On this album you can find four songs from the classic, the rest are originals by Rick van der Linden. The album has of course the typical Ekseption sound with the great keyboard playing of van der Linden (especially on the organ) and ever present brass section. At times it sounds like Procul Harum (like parts from Pop Giant) or even Pink Floyd (in Music For Mind). Julia is a beautiful, melodic track with intense vocals by Van Dijk. Feelings is a track that starts poppy but ends jazzy.
If you ever were to try out the music of Ekseption, I can recommend this album.


Полноразмерные обложки
Техническая информация


Скачать lossless 24-96 (725 Мб):
Пароль к архиву: plastinka.org


Внимание! У Вас нет прав для просмотра скрытого текста.




Благодарностей: 10
Новость отредактировал: Mithrandir - 28-01-2014, 10:41
Причина: Ссылки для скачивания обновлены!