Triana - Sombra y luz (1979) [Original Spain]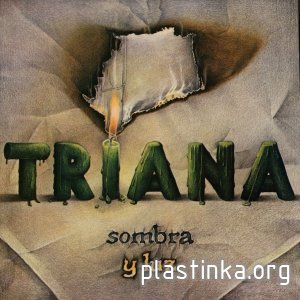 Оцифровку и обработку выполнил: saidalani

Информация о пластинке:
Название: Sombra Y Luz
Исполнитель: Triana
Жанр: Psychedelic Rock, Prog Rock, Rock Andaluz
Год выпуска: 1979
Количество композиций: 06
Количество пластинок: 1
Фирма: Movieplay (Made in Spain)
Номер по каталогу: 17.1439/4

Информация о файле с оцифровкой:
Формат: mp3 + flac
Качество: cbr 320 kbps + lossless 24 bit/96 kHz
Размер файла: 132 + 837 Мб (3% на восстановление)

Предпрослушка: mp3 cbr 320 kbps


Список композиций:
A1 Una Historia 5:06
A2 Quiero Contarte 5:00
A3 Sombra Y Luz 7:40
B1 Hasta Volver 10:40
B2 Tiempo Sin Saber 5:21
B3 Vuelta A La Sombra Y La Luz 5:20

Triana was a Spanish progressive rock band from the 70's and early 80's, heavily influenced by flamenco, hailing from Andalusia. It was composed of Jes?s de la Rosa Luque (Seville) (voice and keyboards), Eduardo Rodr?guez Rodway (Seville) (voice and guitar) and Juan Jos? Palacios "Tele" (Puerto de Santa Mar?a, C?diz) (drums and percussion).
The main goal of the band was to merge flamenco music with progressive rock. The band was influenced by other progressive rock-bands, like Vanilla Fudge and the early King Crimson. The band developed a hard progressive and experimental sound during its three first albums. Later, the sound turned into more fresh pop.
Sombra y luz ("Shadow and Light", 1979) revives their more progressive elements, the music is darker and more experimental than on previous albums, with elements of jazz (Sombra y luz, Shadow and light) and presence of the electric guitar (Una historia, A story). Only one of the songs (Quiero contarte, I want to tell you, a sort of rewriting of their previous song, Abre la puerta , Open the door) maintains some up-beat pop.


Полноразмерные обложки
Техническая информация
Dynamic Range
Credits
Скачать mp3 cbr 320 kbps (132 Мб):
Архив без пароля!
Внимание! У Вас нет прав для просмотра скрытого текста.
Скачать lossless 24-96 (837 Мб):
Архив без пароля!
Внимание! У Вас нет прав для просмотра скрытого текста.
Благодарностей: 5