Steve Howe ‎– The Steve Howe Album (1979)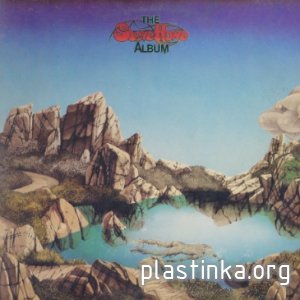 Оцифровку и обработку выполнил: Fran Solo
Информация о пластинке:
Название:
The Steve Howe Album
Исполнитель:
Steve Howe
Жанр:
Acoustic, Art Rock, Symphonic Rock
Год выпуска:
1979
Количество композиций:
10
Количество пластинок:
1
Фирма:
Atlantic (Made in USA)
Номер по каталогу:
SD 19243
Информация о файле с оцифровкой:
Формат:
mp3 + flac
Качество:
cbr 320 kbps + lossless 24 bit/96 kHz
Размер файла:
112 + 879 Мб (3% на восстановление)
Предпрослушка:
mp3 cbr 320 kbps
Список композиций:
Side A
Pennants 4:32
Cactus Boogie 2:00
All's A Chord 4:56
Diary Of A Man Who Disappeared 2:35
Look Over Your Shoulder 5:00
Side B
Meadow Rag 2:40
The Continental 2:50
Surface Tension 3:25
Double Rondo 8:12
Concerto In 2nd Movement 4:50
Steve's second solo album is a really nice record, presenting to the listener a palette of guitarist's styles in a honest and enjoyable way. The music is mostly instrumental, which is a good thing as Steve is not as good in singing as he is with playing guitar. One tune "All's a Chord" give us an example of this, though the fragile song is not totally ruined by the honest vocal interpretations. There are also few quite jolly rags here, "Cactus Boogie" and "Meadow Rag" which are technically good of course, but perhaps too light-minded rants for my appreciation. Then the rest of the album is really great stuff; the opener "Pennants" is an interesting rock track with complex details, carrying forward the progressive legacy of Yes, which already had started the slow disintegration process concluding at the end of 1970′s. "Look over Your Shoulder" is a calm piece for lady singer, and then the rest of songs are in constructed in European classic music style, ranging from solo guitar works to orchestrated pieces. I like classical music very much, so these song pleased me certainly. The orchestrations are done in a very professional way, and the detailed arrangements are created as essential element of the composition, so these are not typical wallpaper fillers done with the strings. "Double Rondo" is the longest of these classical tunes, and it leads to an arrangement of Antonio Vivaldi's 2nd Movement of his Concerto for guitar and orchestra in D, melodically really beautiful number also used by Peter Sinfield on his "Song of The Seagoat". I would recommend this album of course for fans of Yes and the performer himself, but also anybody enjoying elegant and light classical music with art rock crossover blending. The gatefold vinyl covers with Roger Dean's design and photographs of Steve's guitar collection make this as a nice object for any vinyl collector too.
progarchives
Полноразмерные обложки
Техническая информация
Credits
Dynamic Range
Скачать mp3 cbr 320 kbps (112 Мб):
Архив без пароля!
Внимание! У Вас нет прав для просмотра скрытого текста.
Скачать lossless 24-96 (879 Мб):
Архив без пароля!
Внимание! У Вас нет прав для просмотра скрытого текста.
Благодарностей: 5