Ekseption - Trinity (1973)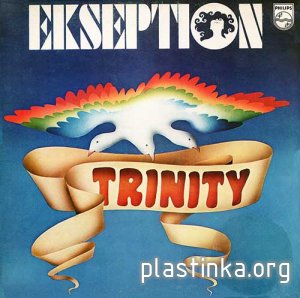 Оцифровку и обработку выполнил: Arend

Информация о пластинке:
Название: Trinity
Исполнитель: Ekseption
Жанр: Pop Rock, Prog Rock, Symphonic Rock
Год выпуска: 1973
Количество композиций: 10
Количество пластинок: 1
Фирма: Philips (Made in Holland)
Номер по каталогу: 6423 056

Информация о файле с оцифровкой:
Формат: flac
Качество: lossless 24 bit/96 kHz
Размер файла: 908 Мб (3% на восстановление)

Предпрослушка: mp3 cbr 320 kbps


Список композиций:
01 Toccata (5:16)
02 The Peruvian Flute (traditional) (8:04)
03 Dreams (1:32)
04 Smile (2:53)
05 Lonely Chase (3:10)
06 Romance (3:30)
07 Improvisation (9:01)
08 Meddle (1:07)
09 Flight Of The Bumble Bee (3:22)
10 Finale III

Музыканты:
- Rein van den Broek / Trumpet, Flugelhorn
- Jan Vennik / Soprano & Tenor Saxophones, Flute
- Cor Dekker / Bass Guitar
- Pieter Voogt / Drums, Percussion
- Rick van der Linden / Piano, (Pipe) Organ, Spinet, ARP2600, Synthesizer, Mellotron
Guests:
- Members of the Dutch Chamber Choir (on "Finale III")

Ekseption's 6th album included some personnel-changes as both Dick Remelink and Peter de Leeuwe were changed by Jan Vennik and Pieter Voogt. But these changes didn't affect the band's musical inspiration and artistic quality as "Trinity" proved to be another of their best albums. "One of my last favorites of Ekseption, almost forty years after the release, you can hear it by this fantastic Philips recording on vinyl.


Review
Полноразмерные обложки
Техническая информация


Скачать lossless 24-96 (908 Мб):
Пароль к архиву: plastinka.org


Внимание! У Вас нет прав для просмотра скрытого текста.




Благодарностей: 13
Новость отредактировал: Mithrandir - 16-01-2014, 20:05
Причина: Ссылки для скачивания обновлены!