Higelin ‎- Ai (1985) [2LP]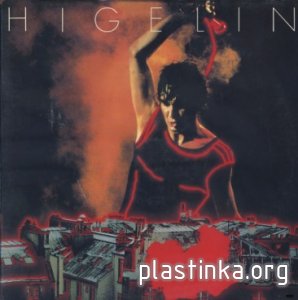 Оцифровку и обработку выполнил: Fran Solo
Информация о пластинке:
Название:
Ai
Исполнитель:
Higelin
Жанр:
Chanson, Pop
Год выпуска:
1985
Количество композиций:
16
Количество пластинок:
2
Фирма:
Pathé (Made in France)
Номер по каталогу:
1729563
Информация о файле с оцифровкой:
Формат:
mp3 + flac
Качество:
cbr 320 kbps + lossless 24 bit/96 kHz
Размер файла:
165 Мб + 1,32 Гб (3% на восстановление)
Предпрослушка:
mp3 cbr 320 kbps, первая пластинка
Список композиций:
Side A
Jack In The Box
Slim Black Boogie
Fiche Anthropométrique
Cult Movie
Side B
Captain Dodécaphonique Dada
Excès De Zèle
Coup De Lune
Broadway
Side C
Mamy
Adiós
La Croisade Des Enfants
Je Ne Sais
Side D
Aï
Laura Lorelei
Serre-Moi
Victoria
Jacques Higelin was born in Brou-sur-Chantereine, a working-class village east of Paris, on October 18, 1940. Jacques' father was both a railroad worker and a music enthusiast who supported his son's love of performing from a young age. Jacques' interests turned toward jazz, and he began singing at the cinemas and on radio competitions while still a boy. By his early teens, he had quit school and gotten work as a stunt man, earning small contracts at first, but soon performing full-time. His film work had him rubbing shoulders with people like Sidney Bechet and film composer Henri Crolla, who taught him guitar. After a brief stint at the René Simon School of Drama and two years of military service, Higelin went back to working in cinema and café-theater. By the mid-'60s, he had made a name for himself, and was offered his first opportunity to record. Douze Chansons d'Avant le Deluge was shortly followed by Quinze Chansons d'Avant le Deluge, both renderings of Boris Vian's songs recorded with Brigitte Fontaine. Higelin continued to turn even more attention toward music, using the medium to express his leftist political ideals. The early '70s found Higelin as a beloved native son of the Parisian artistic underground. In 1971 he released his first solo record, Jacques "Crabouif" Higelin, comprised entirely of his own compositions. He found a new voice in the mid-'70s rock era with his record BBH 75, followed by Irradie a few years later. Musical grit combined with a poet's attention to verse would come to characterize his career. Through the '80s and '90s and into the new millennium, Higelin has continued to write and record prolifically, releasing a new project every few years straight up to 2006's Amor Doloroso.
allmusic
Полноразмерные обложки
Техническая информация
Скачать mp3 cbr 320 kbps (165 Мб):
Архив без пароля!
Внимание! У Вас нет прав для просмотра скрытого текста.
Скачать lossless 24-96 (1,32 Гб):
Архив без пароля!
Внимание! У Вас нет прав для просмотра скрытого текста.
Благодарностей: 1