Mahavishnu John McLaughlin - My Goal's Beyond (1971)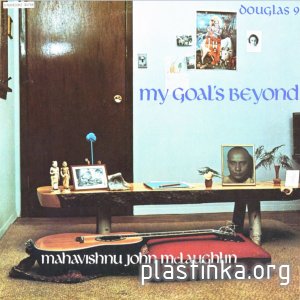 Оцифровку и обработку выполнил: saidalani

Информация о пластинке:
Название: My Goal's Beyond
Исполнитель: Mahavishnu John McLaughlin
Жанр: Jazz-Rock, Fusion, Acoustic
Год выпуска: 1971 (Original USA)
Количество композиций: 10
Количество пластинок: 1
Фирма: Douglas (Made in USA)
Номер по каталогу: KZ 30766

Информация о файле с оцифровкой:
Формат: mp3 + flac
Качество: cbr 320 kbps + lossless 24 bit/96 kHz
Размер файла: 152 + 850 Мб (3% на восстановление)

Предпрослушка: mp3 cbr 320 kbps


Список композиций:
"Peace One" -- 7:18
"Peace Two" -- 12:15
"Goodbye Pork Pie Hat" (Charles Mingus) -- 3:20
"Something Spiritual" (Dave Herman) -- 3:29
"Hearts and Flowers" (Theodore Moses Tobani) -- 2:10
"Phillip Lane" -- 2:36
"Waltz for Bill Evans" (Chick Corea) -- 2:01
"Follow Your Heart" -- 3:19
"Song for My Mother" -- 2:34
"Blue in Green" (Miles Davis) -- 2:38

Музыканты:
John McLaughlin -- acoustic guitar
Billy Cobham -- drums
Jerry Goodman -- violin
Charlie Haden -- bass
Dave Liebman -- flute, soprano saxophone
Airto Moreira -- percussion
Badal Roy -- tabla
Mahalakshmi -- sruti box

My Goal's Beyond is the third solo album of John McLaughlin. The album was originally released on Douglas Records in the US. The music is strongly influenced by music of India, and was dedicated to McLaughlin's spiritual leader, Indian guru Sri Chinmoy. Side one has two longer pieces for the whole band, including soprano saxophone, flute, violin and Indian percussion. Side two of the album features eight short compositions (three standards and five originals) played solely by McLaughlin on acoustic guitar. With the recording he wanted to emphasize his equal love for the acoustic instrument and the beauty of its sound. He wasn't paid much but he's "still pleased with it".


Полноразмерные обложки
Техническая информация
Dynamic Range
Скачать mp3 cbr 320 kbps (152 Мб):
Архив без пароля!
Внимание! У Вас нет прав для просмотра скрытого текста.
Скачать lossless 24-96 (850 Мб):
Архив без пароля!
Внимание! У Вас нет прав для просмотра скрытого текста.
Благодарностей: 12