George Benson - In Your Eyes (1983)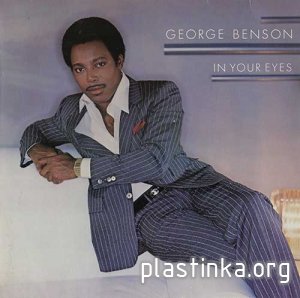 Информация о пластинке:
Название: In Your Eyes
Исполнитель: George Benson
Жанр: Funk, Soul, Disco, Jazz
Год выпуска: 1983
Количество композиций: 10
Количество пластинок: 1
Фирма: Warner Bros. Records (Made in Western Germany)
Номер по каталогу: 92-3744-1

Информация о файле с оцифровкой:
Формат: flac + wavpack
Качество: lossless 16 bit/44.1 kHz + lossless 32 bit float/96 kHz
Размер файла: 308 Мб + 1,23 Гб (3% на восстановление)

Предпрослушка: mp3 cbr 320 kbps


Список композиций:
01. Feel Like Making Love
02. Inside Love (So Personal)
03. Lady Love Me (One More Time)
04. Love Will Come Again
05. In Your Eyes
06. Never Too Far To Fall
07. Being With You
08. Use Me
09. Late At Night
10. In Search Of A Dream

In Your Eyes is a 1983 album by George Benson. It is his only album produced by legendary producer Arif Mardin. It includes the hit "Lady Love Me (One More Time)". The title track would later be covered by Jeffrey Osborne for his 1986 album Emotional.
In search of more platinum, Benson turned to one-time Atlantic Records ace producer Arif Mardin for support. Yet Mardin's best days seemed to be behind him, as this mostly routine package of period R&B backbeats, synthesizer rhythm tracks, and love songs indicates. Any competent soul vocalist could have fit in comfortably here. For jazz fans, Benson's albums at this point became a search for buried treasure, for his guitar time was extremely limited. But when you do encounter a Benson solo, hang on tight. "Love Will Come Again," otherwise a routine soul bumper, concludes with a magnificent solo in octaves that Wes Montgomery would have envied, breathtaking in its economy and swing. Also, check out the instrumental "In Search of a Dream" for proof that George Benson could still burn.


Внимание! У Вас нет прав для просмотра скрытого текста.




Немного видео
Полноразмерные обложки
Техническая информация
АЧХ и спектр оцифровки
Credits
Notes


Скачать lossless 16-44 (308 Мб):
Пароль к архиву: plastinka.org


Внимание! У Вас нет прав для просмотра скрытого текста.



Скачать lossless 32-96 (1,23 Гб):
Пароль к архиву: plastinka.org


Внимание! У Вас нет прав для просмотра скрытого текста.




Благодарностей: 21