Mantovani & his Orchestra - An Album of Favourite Tangos (1953)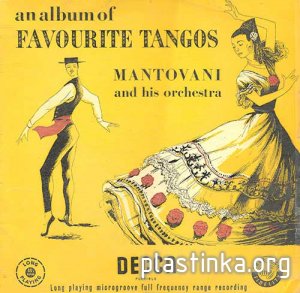 Оцифровку и обработку выполнил: son-of-albion

Информация о пластинке:
Название: An Album of Favourite Tangos
Исполнитель: Mantovani & his Orchestra
Жанр: Tango
Год выпуска: 1953
Количество композиций: 12
Количество пластинок: 1
Фирма: Decca (Made in UK)
Номер по каталогу: LK 4061 (circa 1958 UK mono LP)

Информация о файле с оцифровкой:
Формат: mp3 + flac
Качество: cbr 320 kbps + lossless 24 bit/96 kHz
Размер файла: 82 + 405 Мб (3% на восстановление)

Предпрослушка: mp3 cbr 320 kbps


Список композиций:
01. Jealousy
02. A Media Luz
03. Arana de la Noche
04. Besame Mucho
05. Tango de la Luna
06. Red Petticoats
07. Adios Muchachos
08. Blaue Himmel
09. El Choclo
10. La Cumparsita
11. Chiquita mia
12. Tango delle rose

Recorded at Decca Studios, West Hampstead, London, between 20th June 1952 & 10th April 1953
Producer: Frank Lee; Engineer: Arthur Lilley

It is many years now since the Tango was a social outcast, and many are the Tangos that Mantovani has recorded for Decca. In this album he presents a selection of your favourites. It opens with one without which no presentation of Tangos would be complete - the stirring, colourful 'Jealousy'. Then comes the more light-hearted 'A Media Luz', followed by 'Arana de la Noche'. 'Besame Mucho' is of a more passionate nature than the restful 'Tango de la Luna' which it precedes. To close the first side of this record Mantovani has chosen his own composition 'Red Petticoats'...The cheery 'Adios Muchachos' leads off the second side in which are included the fiery 'El Choclo' and the dramatic 'La Cumparsita'.
On both sides of this record you will find Tangos of varying tempos, moods and nationalities. Mantovani's orchestration of them is brilliant and tasteful. He employs the accordion to give atmosphere, adding delicate touches of woodwind and mellow interjections from muted brass - and always prominent is the beautiful, unique string tone of the Mantovani Orchestra. From the sleeve notes.
On a personal note: When I was small my maternal grandfather would occasionally play Tangos for me on his piano-accordion. After my parents bought a 'Radiogram' that was capable of playing 'microgroove' records (1959) he gave me this LP (my first!) on the proviso that he could listen to it whenever he visited. It became a regular thing for us to sit round after Sunday tea and listen to this LP. Having not heard it for probably thirty years, I was surprised how good it actually is. And, considering that it's a 'well loved' LP, it has also turned out sounding rather good. I would also add: if you like Scott Walker's sixties recordings, you may well enjoy this as the arrangements are somewhat similar.


Полноразмерные обложки
Техническая информация
Скачать mp3 cbr 320 kbps (82 Мб):
Архив без пароля!
Внимание! У Вас нет прав для просмотра скрытого текста.
Скачать lossless 24-96 (405 Мб):
Архив без пароля!
Внимание! У Вас нет прав для просмотра скрытого текста.
Благодарностей: 29