Donovan - Sunshine Superman (UK) (1967)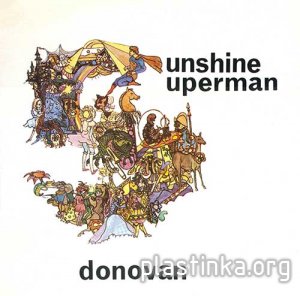 Оцифровку и обработку выполнил: son-of-albion

Информация о пластинке:
Название: Sunshine Superman
Исполнитель: Donovan
Жанр: Rock, Pop, Psychedelia, Folk
Год выпуска: 1967
Количество композиций: 12
Количество пластинок: 1
Фирма: BGO Records (Made in UK)
Номер по каталогу: BGOLP 68

Информация о файле с оцифровкой:
Формат: mp3 + flac
Качество: cbr 320 kbps + lossless 24 bit/96 kHz
Размер файла: 118 Мб + 0,99 Гб (3% на восстановление)

Предпрослушка: mp3 cbr 320 kbps


Список композиций:
01. Sunshine Superman
02. Legend of A Girl Child Linda
03. The Observation
04. Guinevere
05. Celeste
06. Writer In the Sun
07. Season of the Witch
08. Hampstead Incident
09. Sand and Foam
10. Young Girl Blues
11. Three Kingfishers
12. Bert's Blues

The UK issue of this landmark album paired half of the US release with half of the Mellow Yellow album and featured totally different artwork. However it's still a strong album dominated by tracks that mixed Donovan's earlier folk style with acid rock psychedelia. The blend works perfectly on the title track but there are some other gems present here such as the haunting "Celeste", the sitar laden "Three Kingfishers" and of course the dark "Season Of the Witch". One of the essential 1967 releases, (although the US version was issued in 1966 making it one of the earliest psychedelic records!) Freak Emporium.

Due to the contractual dispute between Pye Records and Epic Records, Donovan's releases were held back in the United Kingdom throughout 1966 and early 1967. During this time, Donovan released Sunshine Superman and Mellow Yellow in the United States. To catch up to the Epic Records schedule in America, Pye Records compiled a cross-section of both albums and titled it Sunshine Superman. It was released in the UK (Pye NPL 18181) in June 1967 and reached #25 in the British charts. Wikipedia

Note: despite the wording on the label and rear sleeve, this record is mono.


Полноразмерные обложки
Техническая информация
Dynamic Range
Скачать mp3 cbr 320 kbps (118 Мб):
Архив без пароля!
Внимание! У Вас нет прав для просмотра скрытого текста.
Скачать lossless 24-96 (0,99 Гб):
Архив без пароля!
Внимание! У Вас нет прав для просмотра скрытого текста.
Благодарностей: 5