Angelo Branduardi ‎- La Demoiselle (1980)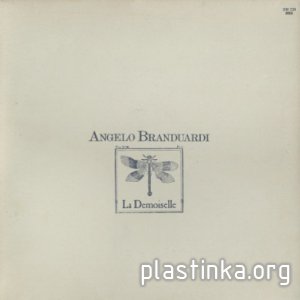 Оцифровку и обработку выполнил: Fran Solo

Информация о пластинке:
Название: La Demoiselle
Исполнитель: Angelo Branduardi
Жанр: Progressive Folk
Год выпуска: 1980
Количество композиций: 09
Количество пластинок: 1
Фирма: Musiza (Made in France)
Номер по каталогу: 200 220

Информация о файле с оцифровкой:
Формат: mp3 + flac
Качество: cbr 320 kbps + lossless 24 bit/96 kHz
Размер файла: 117 + 936 Мб (3% на восстановление)

Предпрослушка: mp3 cbr 320 kbps


Список композиций:
Side 1
1 Bal En Fa Dièse Mineur 7:08
2 Le Cerisier 4:10
3 Naissance D'Un Lac 4:10
4 En Avant L'Aventure 3:50
5 Le Serment Du Marin 4:10
Side 2
1 La Demoiselle 4:50
2 L'Epouse Dérobée 4:00
3 Les Rides De La Lune 5:00
4 La Belle Dame Sans Merci 6:43

La Luna ("The Moon"), including "Hooligan's Confession" (translation of a poem by Esenin) and the fine, delicate song giving the LP its name, was a prelude to the success of the following works. Alla fiera dell'Est (English edition: Highdown Fair, 1976) was Branduardi's first vastly popular album, followed by La Pulce d'Acqua (English version, Fables and Fantasies 1978) and Cogli la prima mela (English edition, Life is the Only Teacher, 1979). Lyrics for the English versions of Branduardi's albums were written by Peter Sinfield, also lyricist for King Crimson and Emerson, Lake & Palmer.
In those albums, Branduardi exploited themes and patterns from early music, mostly Renaissance and early Baroque. The song "Alla fiera dell'Est" ("At the Eastern Fair") is still popular among Italians of every age, who test themselves committing to memory all the fable-like, repetitive lyrics. It is based on an old Jewish song in Aramaic ("Chad Gadya" - One Kid Goat) sung at the end of the Passover Seder night service. In 2007 "Alla fiera dell'Est" was covered by Israeli singer Shlomi Shabat for a Passover time commercial for cellphone company Pelephone.
Lyrics had a broad spectrum of inspiration: a Danse macabre, the theme of Satan's mistress, Chinese, Native American and Druidic tradition, the apocryphal Gospels. Concertation owes much to the talents of Maurizio Fabrizio, and exploits unusual instruments for pop music: dulcimer, Pan flute, lute, clarinet, among others - mixed with more standard guitar, bass and drums..


Полноразмерные обложки
Техническая информация
Dynamic Range
Скачать mp3 cbr 320 kbps (117 Мб):
Архив без пароля!
Внимание! У Вас нет прав для просмотра скрытого текста.
Скачать lossless 24-96 (936 Мб):
Архив без пароля!
Внимание! У Вас нет прав для просмотра скрытого текста.
Благодарностей: 5