Komeda Quintet ‎- Astigmatic (1966) [Polish Jazz Vol. 5]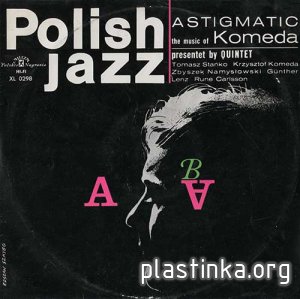 Информация о пластинке:
Название: Astigmatic
Исполнитель: Komeda Quintet
Серия: Polish Jazz Vol. 5
Жанр: Avant-garde Jazz, Post Bop, Modal, Contemporary Jazz
Год выпуска: 1966
Количество композиций: 03
Количество пластинок: 1
Фирма: Polskie Nagrania Muza (Made in Poland)
Номер по каталогу: XL 0298

Информация о файле с оцифровкой:
Формат: flac + wavpack
Качество: lossless 16 bit/44.1 kHz + lossless 32 bit float/96 kHz
Размер файла: 310 Мб + 1,33 Гб (3% на восстановление)

Предпрослушка: mp3 cbr 320 kbps


Список композиций:
01. Astigmatic
02. Kattorna
03. Svantetic

Музыканты:
Alto Saxophone – Zbigniew Namys?owski
Bass – Gunter Lenz
Drums – Rune Carlsson
Piano – Krzysztof Komeda
Trumpet – Tomasz Stanko

Krzysztof Komeda (born Krzysztof Trzci?ski 27 April 1931 in Pozna? – 23 April 1969 in Warsaw) was a Polish film music composer and jazz pianist. Perhaps best known for his work in film scores, Komeda wrote the scores for Roman Polanski's films Rosemary's Baby, The Fearless Vampire Killers, Knife in the Water and Cul-de-sac. Komeda's album Astigmatic (1965) is widely regarded as one of the most important European jazz albums; critic Stuart Nicholson describes the album as "marking a shift away from the dominant American approach with the emergence of a specific European aesthetic."
Jazz musician and film composer Krzysztof Komeda is best known for his film scores for the movies of Roman Polanski and Ingmar Bergman. Born Krzysztof Trzcinski in 1931, he used "Komeda" as his last name because of Communism disfavor with jazz music. Professionally an ear, nose, and throat specialist, Komeda composed and played jazz piano, and was well received at the 1956 Sopot Jazz Festival. Komeda's chief musical accomplishments were in free jazz. Komeda performed and recorded with trumpeter Tomasz Stanko (from 1963 on) and Swedish tenor saxophonist Bernt Rosengren. His album Astigmatic (1965) is acknowledged as his masterpiece. His best-known work, however, was in the realm of film scores, which he focused on increasingly in the last years before his death. He scored over 40 films for directors including Polanski, Bergman, Andrzej Wajda, Henning Carlsen, and more. After composing the score for Polanski's famed American movie debut, Rosemary's Baby, Komeda was severely injured in a car wreck in Los Angeles. After emerging from a coma, Komeda returned to his wife, Zofia, in Warsaw, and died in 1969, not yet 40 years old. In 1998, the Power Brothers label reissued the much-hailed Memory of Bach, 1967's Nighttime, Daytime Requiem, and Mojo Ballada, which includes a different recording of the music for Polanski's Knife in the Water and pieces for Miroslaw Kijowicz's cartoons.



О альбоме (на английском)

Полноразмерные обложки

Техническая информация

Dynamic Range


Скачать lossless 16-44 (310 Мб):
Пароль к архиву: plastinka.org


Внимание! У Вас нет прав для просмотра скрытого текста.



Скачать lossless 32-96 (1,33 Гб):
Пароль к архиву: plastinka.org


Внимание! У Вас нет прав для просмотра скрытого текста.