Pat Metheny Group - First Circle (1984)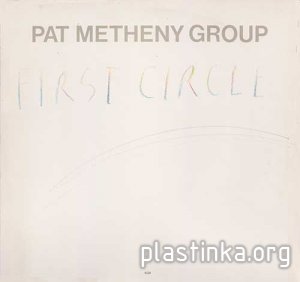 Оцифровку и обработку выполнил: Arend

Информация о пластинке:
Название: First Circle
Исполнитель: Pat Metheny Group
Жанр: Contemporary Jazz, Ambient
Год выпуска: 1984
Количество композиций: 08
Количество пластинок: 1
Фирма: ECM Records (Made in Western Germany)
Номер по каталогу: ECM 1278, 823 342-1

Информация о файле с оцифровкой:
Формат: flac
Качество: lossless 24 bit/96 kHz
Размер файла: 1,06 Гб (3% на восстановление)

Предпрослушка: mp3 cbr 320 kbps


Список композиций:
01 Forward March
02 Yolanda, You Learn
03 The First Circle
04 If I Could
05 Tell It All
06 End of the Game
07 M?s All? (Beyond)
08 Praise

Музыканты:
Pat Metheny: Guitar, Sitar, 12 String Guitar, Guitar Synth, Classical Guitar, Synthesizer, Synclavier
Lyle Mays: Piano, Organ, Synclavier, keyboards, Trumpet, Synthesizer, Bells, Oberheim, Agogo
Steve Rodby: Bass Guitar
Paul Wertico: drums
Pedro Aznar: Guitar, Acoustic Guitar, Percussion, Glockenspiel, vocals, Whistle, Bells

First Circle is a Grammy Award winning album by the Pat Metheny Group released in 1984. On the album Pat Metheny is joined by Lyle Mays on piano and keyboards, Steve Rodby on bass guitar, drummer Paul Wertico and vocalist and percussionist Pedro Aznar. The album won the Grammy Award for Best Jazz Fusion Performance in 1985. "Another great ECM "PMG" album that has to be heard; this album has a beautiful open sound.. Enjoy!"



Review

Полноразмерные обложки

Техническая информация

Credits


Скачать lossless 24-96 (1,06 Гб):
Пароль к архиву: plastinka.org


Внимание! У Вас нет прав для просмотра скрытого текста.




Новость отредактировал: Mithrandir - 30-01-2014, 01:02
Причина: Ссылки для скачивания обновлены!