King Sunny Adé And His African Beats - Juju Music (1982)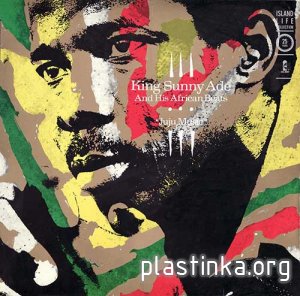 Оцифровку и обработку выполнил: Arend

Информация о пластинке:
Название: Juju Music
Исполнитель: King Sunny Ad? And His African Beats
Жанр: Folk, World, & Country, Afrobeat
Год выпуска: 1982
Количество композиций: 07
Количество пластинок: 1
Фирма: Island Records (Made in Germany)
Номер по каталогу: 204 770

Информация о файле с оцифровкой:
Формат: mp3 + flac
Качество: cbr 320 kbps + lossless 24 bit/96 kHz
Размер файла: 140 + 933 Мб (3% на восстановление)

Предпрослушка: mp3 cbr 320 kbps


Список композиций:
01 Ja Funmi
02 Eje Nlo Gba Ara Mi
03 Mo Beru Agba
04 Sunny Ti de Ariya
05 Ma Jaiye Oni
06 365 Is My Number/The Message
07 Samba/E Falaba Lewe

Juju Music is the 1982 major label debut of Nigerian J?j? band King Sunny Ad? and His African Beats. It represented the first worldwide release for Ad?, who was already established in his native Nigeria as its "biggest musical draw and Juju music's reigning monarch". The album was a critical and commercial success, peaking at 111 on Billboard's "Pop Albums" chart. The New York Times, which described the album in 1982 as "the year's freshest dance-music album", credited it in 1990 with having launched the "World Beat movement in the United States" "This is a sparkling and happy album; the music is uplifting, hypnotic and relaxing; especially track 4,5,6,7 are for me the real (audiophile) highlights; but listen for yourself; Enjoy!"



Review

Полноразмерные обложки

Техническая информация

Credits
Скачать mp3 cbr 320 kbps (140 Мб):
Архив без пароля!
Внимание! У Вас нет прав для просмотра скрытого текста.
Скачать lossless 24-96 (933 Мб):
Архив без пароля!
Внимание! У Вас нет прав для просмотра скрытого текста.